Geri
Allen
All-Female
Jazz
Camp
Overnight Residency at Rutgers University-Newark
Ages: 14 – 26
Dates: Jul 5 – 11
Tuition: $1,400 for on-campus residents
Young women find inspiration and build community in this one-week jazz immersion program. Students refine their instrumental or vocal skills and work side-by-side with acclaimed jazz musicians. The program includes individual lessons, small ensemble work, industry panel discussions and field trips to landmark jazz institutions before culminating in a student showcase. Past Master Class faculty include Tia Fuller, Stefon Harris, Connaitrie Miller and more!
Regina Carter, Artistic Director
Led by Artistic Director Regina Carter and joining her are past Master Class faculty including Tia Fuller, Stefon Harris, Connaitrie Miller and more!
Greetings from Newark!
The summer of 2020 will be my third year as artistic director of NJPAC's All-Female Jazz Residency—so far it has been an exciting journey.
Over the past six years, young women, age 14-26, representing 17 states and four countries, including Canada, Poland, Israel and Australia, have traveled to the Rutgers University-Newark campus to participate in our week-long residency designed to inspire and instruct those who aspire to a professional career in performing and/or teaching jazz.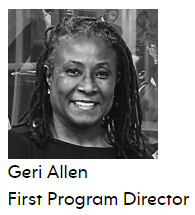 This year, we are excited to announce that the program has been renamed The Geri Allen All-Female Jazz Camp, in honor of its first Artistic Director, the incomparable Geri Allen. In a career that spanned more than 35 years, Geri Allen left behind a legacy of impeccable playing, composing, arranging and empowering young musicians, bringing the music forward with her innovative projects and her educational acumen. As we continue her bold legacy, we are excited to push forward her work to ensure more young women have the opportunity to be immersed in a secure, nurturing and fun environment, focusing in on their instrumental and vocal skills and building confidence.
During the week, our young women will learn about the history of women in jazz, create long lasting friendships, further hone their skills and jam in a community with other like-minded artists, all while interacting and being mentored by a distinguished faculty of jazz musicians from across the US.
The program's daily schedule includes music theory, technique class and ensemble rehearsals. At the end of the week, the students perform at Clement's Place, a jazz venue in Newark, honoring the legacy of Dr. Clement Price, Newark's city historian and a dedicated jazz fan.
Our young artists will experience masterclasses, panel discussions and listening sessions led by guest artists and faculty. Past guest clinicians include drummer Teri Lyne Carrington, pianist Kenny Barron, vocalist Carla Cook, saxophonist Tia Fuller, vibraphonist Stefon Harris and tap dancer/actress/vocalist Brinae Ali, who taught the students and faculty the 'Shim Sham.'
Past summers have included panel discussions with artist managers, marketing and brand specialists. We have toured the studio of Newark's premier jazz radio station, WBGO, and while there, had the opportunity to speak with some of the top female jazz radio hosts. We also visited The Institute of Jazz Studies, the world's foremost jazz archive and research facility located on the campus of Rutgers University-Newark.
Our camp will not only provide opportunities to see live jazz performances, with previous visits to the world famous Birdland Jazz Club in New York City, Trumpets Jazz Club in Montclair, NJ, and The Stone, John Zorn's Experimental Music Performance space in Greenwich Village. We will also have moments of civic engagement, as the summer of 2019 saw the students perform for elders of the Newark community at a community nursing home.
There are unique challenges that female musicians can face—balancing family, performing, traveling, teaching, working in a male-dominated field, etc. We engage in sister-to-sister talks and discuss a wide range of issues, offering strategies and solutions to arm the young women for success.
The Geri Allen All-Female Jazz Camp is an extraordinary, immersive and inclusive experience. We had a blast last summer and hope to have you join us in 2020!
All the best,
Regina Carter
Auditions are required and will be held on Mon, Jul 6.
Students less experienced with jazz improvisation, or any other aspect listed should not be anxious about these requirements as the camp caters to all levels. Beginning students should simply demonstrate any of the below criteria to the best of their ability. If you're unfamiliar with any of the material or new to improvising, let us know. Don't be intimidated or embarrassed; do the best that you can do. The NJPAC All-Female camp welcomes beginning and experienced students alike.  You are coming to camp to learn and we are ALL still learning.
Familiarize yourself with and Play Through as Many as Possible:
Chromatic Scale: Full range of Instrument (or what you are comfortable playing)
Major Scales/ Arpeggios (C, F, Bb, Eb, Ab, G, D)
Dominant 7th Scales/Arpeggios (C, F, Bb, Eb G, D, A)
Dorian Minor Scales/Arpeggios: (C, F, G, D, A, E)
Blues Scale: (C, F, Bb, Eb, D, G)
Ensemble Placement Repertoire – Vocalists
Vocalists: Choose keys with that are comfortable.
All of Me (Gerald Marks and Seymour Simons)
On the Sunny Side og the Street (Jimmy McHugh)
Benny Goodman & Peggy Lee https://youtu.be/lNekniIgjCk
Ella Fitzgerald  https://youtu.be/H0grl8rKUiw
One Note Samba
Sophisticated Lady
---
Ensemble Placement Repertoire- Instrumentalists
Drummers:
Demonstrate swing feel, ¾ swing (slow, medium, and up-tempo, with sticks and brushes), Bossa Nova, Samba, and Shuffle.
Drummers should (in place of a standard tune selection) prepare to demonstrate basic time feels: Swing in 4/4, and 3/4 (slow, medium, and up-tempo, with sticks and brushes), Bossa Nova, Samba, and Shuffle.
Bass Players:
Play the melody to the tune you have chosen. Demonstrate a walking bass line.
Doxy (Sonny Rollins)
Bye Bye Blackbird (Mort Dixon and Ray Henderson )
Oleo (Sonny Rollins)
On the Sunny Side og the Street (Jimmy McHugh)