Ages: 14 – 26
Dates: Jul 6 – 11
Time: 10AM – 4:30PM (EST)
Price:
Ages 14-18: $75
Ages 19-26: $100
This one-week immersion program is an exciting opportunity for you to refine your jazz technique, grow your confidence and build community with other aspiring performers who identify as female or non-binary. You'll work with professional jazz artists in individual lessons, small ensemble work and industry panel discussions.
Jersey Arts People's Choice Award Winner for "Favorite Performing Arts Camp"
Support provided by Women@NJPAC
Part of the



Led by Artistic Director Regina Carter and joining her are past Master Class faculty including Allison Miller, Bruce Williams, Carla Cook, Ellen Rowe, Stefon Harris, and Marion Hayden!
Technique classes
Led by GAJC faculty, our smaller group classes, separated by instrument, will focus on performance technique, improvisational skills, and musicianship, with the goal of demonstrated technical and musical growth throughout this virtual experience.
Ear Training and Theory Class
Students will explore the fundamentals and vocabulary of music, deepen their understanding of harmony, improvisation, rhythm, refine students' ear training and listening skills. This class is designed to provide students with a foundation for further explorations of music theory and musicianship.
Virtual Ensembles: Concepts and Presentation in Jazz Performance
What does it take to craft your musical voice? In this unprecedented time, traditional ensemble work has been turned on its head.  In this workshop, we will bridge the distance that divides us.  Students will be grouped into ensembles, but in the spirit of MAKER, students will work together to create a final performance piece utilizing technology to present the selection.  Time outside of class instruction will be needed to complete group work.
Listening Party
What is the role of each musician in the band?  This workshop will feature faculty presentations on the song selections they love. GAJC Faculty will play and talk about what to listen for and learn from recordings and how to implement those ideas in our playing.
Tap Dance: Studying the Shim Sham
Led by acclaimed Tap dancer Brinae Ali, in this active movement class, students will explore the relationship Tap Dance has in Jazz Music.  Feel the steps in your feet in syncopation to the beat.
Masterclasses:
Jazz Child: Masterclass with Sheila Jordan – July 7, 2020
Join us for an in-depth discussion with legendary Jazz vocalist, songwriter and NEA Jazz Master as she offers wisdom and reflections on 60 years in Jazz.
Sister to Sister: Masterclass with Tia Fuller – July 8, 2020
 Join Grammy-nominated saxophonist, professor, composer and bandleader Tia Fuller as we unpack the history of contributions Women continue to have to the world of Jazz.  In this intimate talk, we will talk about the influences, experiences and unique challenges Women face as they pursue a career in jazz.
Prepping for Higher Ed:  Masterclass with Michele Wright, Assoc. Dir, Jazz Studies, MSM
Join Michele Wright, accomplished clarinetist and Associate Director, Jazz Studies, Manhattan School for Music, for a discussion on College and Grad school admissions in Music. Topics may include: the admissions process, auditions, applications and more.
The Business of the Music Business:  Masterclass with Sheila Anderson, WBGO
Join us for an in-depth conversation about the Music business with WBGO host Sheila Anderson, author of the book How to Grow As a Musician: What All Musicians Must Know to Succeed as she shares her passion and deep knowledge for all things jazz.
Greetings from Newark!
The summer of 2020 will be my third year as artistic director of NJPAC's All-Female Jazz Residency—so far it has been an exciting journey.
Over the past six years, young women, age 14-26, representing 17 states and four countries, including Canada, Poland, Israel and Australia, have traveled to the Rutgers University-Newark campus to participate in our week-long residency designed to inspire and instruct those who aspire to a professional career in performing and/or teaching jazz.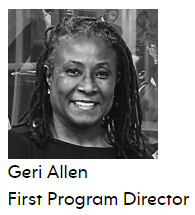 This year, we are excited to announce that the program has been renamed The Geri Allen All-Female Jazz Camp, in honor of its first Artistic Director, the incomparable Geri Allen. In a career that spanned more than 35 years, Geri Allen left behind a legacy of impeccable playing, composing, arranging and empowering young musicians, bringing the music forward with her innovative projects and her educational acumen. As we continue her bold legacy, we are excited to push forward her work to ensure more young women have the opportunity to be immersed in a secure, nurturing and fun environment, focusing in on their instrumental and vocal skills and building confidence.
During the week, our young women will learn about the history of women in jazz, create long lasting friendships, further hone their skills and jam in a community with other like-minded artists, all while interacting and being mentored by a distinguished faculty of jazz musicians from across the US.
The program's daily schedule includes music theory, technique class and ensemble rehearsals. At the end of the week, the students perform at Clement's Place, a jazz venue in Newark, honoring the legacy of Dr. Clement Price, Newark's city historian and a dedicated jazz fan.
Our young artists will experience masterclasses, panel discussions and listening sessions led by guest artists and faculty. Past guest clinicians include drummer Teri Lyne Carrington, pianist Kenny Barron, vocalist Carla Cook, saxophonist Tia Fuller, vibraphonist Stefon Harris and tap dancer/actress/vocalist Brinae Ali, who taught the students and faculty the 'Shim Sham.'
Past summers have included panel discussions with artist managers, marketing and brand specialists. We have toured the studio of Newark's premier jazz radio station, WBGO, and while there, had the opportunity to speak with some of the top female jazz radio hosts. We also visited The Institute of Jazz Studies, the world's foremost jazz archive and research facility located on the campus of Rutgers University-Newark.
Our camp will not only provide opportunities to see live jazz performances, with previous visits to the world famous Birdland Jazz Club in New York City, Trumpets Jazz Club in Montclair, NJ, and The Stone, John Zorn's Experimental Music Performance space in Greenwich Village. We will also have moments of civic engagement, as the summer of 2019 saw the students perform for elders of the Newark community at a community nursing home.
There are unique challenges that female musicians can face—balancing family, performing, traveling, teaching, working in a male-dominated field, etc. We engage in sister-to-sister talks and discuss a wide range of issues, offering strategies and solutions to arm the young women for success.
The Geri Allen All-Female Jazz Camp is an extraordinary, immersive and inclusive experience. We had a blast last summer and hope to have you join us in 2020!
All the best,
Regina Carter
Auditions are required and will be held on Mon, Jun 29.
Students less experienced with jazz improvisation, or any other aspect listed should not be anxious about these requirements as the camp caters to all levels. Beginning students should simply demonstrate any of the below criteria to the best of their ability. If you're unfamiliar with any of the material or new to improvising, let us know.
Don't be intimidated or embarrassed; do the best that you can do. The Geri Allen Jazz Camp welcomes beginning and experienced students alike. You are coming to camp to learn and we are ALL still learning.
Guidelines for Placement Repertoire:
Your tune selections should be
All applicants, prepare two tunes from the applicable list below (demonstrate your ability to sing/play the melody and improvise over the harmonic changes with a rhythm section)
Demonstrate your ability to improvise over a Blues form (such as Billie's Bounce, Straight No Chaser or Centerpiece).
Pianists and Guitarists – demonstrate your fundamental ability to comp the chord
Drummers – demonstrate your ability to play Shuffle feel, Swing feel in 4/4, and 3/4 at different tempos (with sticks and brushes), solo and
Bassists – demonstrate your ability to walk the bass lines solo and play the
All Rhythm Section Players, demonstrate a bossa nova, samba or a Latin groove in this vein
Vocalists: (Choose keys that are comfortable).
Video Guidelines:
Your video should be in mp4 or mov video You can use your phone, computer or camera to record.
Your video should have a length of 3-5
Film horizontally with your face in the top 2/3 of the screen so we can add a "lower third" (your name and title).
Film indoors to avoid the ambient sound (wind ).
Familiarize yourself with and Play Through as Many as Possible:
Chromatic Scale: Full range of Instrument (or what you are comfortable playing)
Major Scales/ Arpeggios (C, F, Bb, Eb, Ab, G, D)
Dominant 7th Scales/Arpeggios (C, F, Bb, Eb G, D, A)
Dorian Minor Scales/Arpeggios: (C, F, G, D, A, E)
Blues Scale: (C, F, Bb, Eb, D, G)
Song Selections by level:
Beginners
Ella Fitzgerald https://youtu.be/1JaJtNLhlfk
Dinah Washington https://youtu.be/FIhek2cGBKY
It Don't Mean A Thing (If it Ain't Got that Swing) (Duke Ellington)
Ella Fitzgerald https://youtu.be/GGesQyNTwIo
Ernestine Anderson https://youtu.be/xiGNHGGsG1M
Diane Schuur https://youtu.be/FM8aZbrJASE
Bye Bye Blackbird – (Mort Dixon and Ray Henderson)
Peggy Lee https://youtu.be/wVdz4YuMDQ4
Dee Dee Bridgewater https://youtu.be/fiLsvqumVqg
Etta Jones https://youtu.be/VG1f7B24C24
Intermediate
One Note Samba (Antônio Carlos Jobim with Portuguese lyrics by Newton Mendonça)
Peggy Lee https://youtu.be/NPDmNwopdxE
Astrud Gilberto https://youtu.be/JDzWWmscbt8
Nancy Wilson, https://youtu.be/QPv1e-PxFKQ
Old Devil Moon ( Burton Lane, with lyrics by Yip Harburg)
Rosemary Clooney https://youtu.be/ULx6iUb66gA
Carmen McRae https://youtu.be/-F4ftUSmAGA
If I Were a Bell – ( Frank Loesser )
Ella Fitzgerald https://youtu.be/KqVYFztmxds
Sarah Vaughan w/Count Basie https://youtu.be/rkC2dTVWp08
Advanced
Sophisticated Lady (Duke Ellington)
Ella Fitzgerald https://youtu.be/aJVACQHIn1E
Blossom Dearie https://youtu.be/lQRt8542cIc
Billie Holiday https://youtu.be/hHksWjoGs0I
No More Blues (Chega de Saudade) João Gilberto
Eliane Elias https://youtu.be/IlI5eTr5a-0
Carmen McRae https://youtu.be/q0UWu_xchHU
Invitation – (Bronslau Kaper)
Dinah Washington https://youtu.be/iyp1yvSBq5I
Sarah Vaughan https://youtu.be/soRpyE0GDDY
Instrumentalists Song Selection by Level:
Beginners:
Miles Davis Quintet https://youtu.be/XpueyrkcMy
Dexter Gordon https://youtu.be/zePhz_v_on0
Joe Pass & Red Mitchell https://youtu.be/P1PeBf-PbQs
My Little Suede Shoes (Charlie Parker)
Charlie Parker https://youtu.be/Ev9YJuUFDgA
Grant Green https://youtu.be/18iADBtTAo4
Gene Harris https://youtu.be/VamiZUWICis
Summertime (George Gershwin)
Ella Fitzgerald https://youtu.be/XivELBdxVRM
Charlie Parker https://youtu.be/j1bWqViY5F4
Artie Shaw https://youtu.be/FilTMFDREKY
Intermediate
Bye Bye Blackbird (Mort Dixon and Ray Henderson)
Sonny Stitt https://youtu.be/SR3mWWtDVdc
Kenny Barron https://youtu.be/pgc_qbl7g70
Ray Brown Trio w Ralph Moore https://youtu.be/xYyckaeqk4M
Miles Davis Quintet https://youtu.be/9IY29EZb1pI
Phineas Newborn https://youtu.be/mADxQjfxL54
Bill Evans https://youtu.be/5oatcu54hMc
Stella By Starlight (Victor Young)
Stella By Starlight, arranged by Melba Liston – Dizzy Gillespie South America tour – 1956. https://youtu.be/2DOK7UHJDd0
Benny Golson Quartet https://youtu.be/_7I6bT39R64
Bill Evans Trio https://youtu.be/IbzxJuvbH08
Advanced Level
Frank Morgan https://youtu.be/7k_e-Yl2Bvg
Barry Harris https://youtu.be/HH2YEovKE7g
Stuff Smith https://youtu.be/-05_vHPxaBM
PLEASE READ THIS IMPORTANT INFORMATION PRIOR TO REGISTERING FOR ANY COURSE
NJPAC strictly prohibits all students from sharing and/or receiving Personal Information, including, without limitation, phone number, social security number, address, email address, date of birth, social media account address, such as Facebook, Twitter, Instagram, Snap Chat, etc. (collectively the "Personal Information") in connection with any course. Although we recommend all parents/guardians monitor their child's internet use, to the extent that the student is a minor, parents or guardians must strictly monitor such student's internet use in connection with the course at all times and ensure that neither the parent or guardian nor the student share and/or receive any Personal Information. NJPAC is not responsible or liable for such sharing and/or receipt of Personal Information or any consequences thereof. For more information, please read:
NJPAC's Acceptable Use Policy for Virtual Courses
By registering for any course, you are acknowledging that you have read and agree to abide by these policies, and the terms, conditions, and restrictions contained therein.