Overnight Residency at Rutgers University-Newark
Ages: 14 – 26
Dates: Jul 5 – 11
Tuition for on-campus residents: $1,400
Tuition for off-campus residents: $1,050
This one-week immersion program at the Rutgers-Newark Campus is an exciting opportunity for you to refine your jazz technique, grow your confidence and build community with other aspiring performers who identify as female or non-binary. You'll work side by side with professional jazz artists in individual lessons, small ensemble work and industry panel discussions. You'll also take day trips to landmark jazz institutions and showcase what you've learned in a final performance.
Jersey Arts People's Choice Award Winner for "Favorite Performing Arts Camp"
Trying to fit Regina Carter into a neatly defined musical category is pointless. She enjoys performing many styles of music—jazz, R&B, Latin, classical, blues, country, pop, African, and on and on. In each she explores the power of music through the voice of the violin.
A recipient of the MacArthur "genius" award and a Doris Duke Artist Award, Regina has been widely hailed for her mastery of her instrument and her drive to expand its possibilities. In 2018 she was named artistic director of the New Jersey Performing Arts All-Female Jazz Residency, a unique summer immersion program for aspiring women jazz professionals. In December of that year she was nominated for a Grammy for Best Improvised Solo for "Some of That Sunshine," the title track on vocalist Karrin Allyson's album. She is on the faculty of the Manhattan School of Music. Past positions have included artist in residence at the Oakland University School of Music, Theatre, and Dance; resident artist for San Francisco Performances; and resident artistic director for SFJAZZ.
Born in Detroit, Regina began studying violin at the age of four using the Suzuki method. She attended Cass Technical High School in Detroit, and her training continued at the New England Conservatory of Music and at Oakland University in Michigan for jazz. She taught violin in public schools in Detroit and on a U.S. military base in Germany. She first gained attention with Straight Ahead, an all-female jazz quintet that recently celebrated its 25-year reunion at the Detroit Jazz Festival. She also recorded and toured for six years with The String Trio of New York.
In 1995 Regina released her self-titled solo debut on Atlantic Records. Three more albums followed in rapid succession: Something for Grace (1997), Rhythms of the Heart (1999), and Motor City Moments (2000), all on Verve. Traveling to Genoa, Italy, and making history by being the first nonclassical violinist to play Niccolò Paganini's Il Cannone ("The Cannon"), the legendary violin built by Giuseppe Guarneri in 1743, inspired her next effort, Paganini: After a Dream (Verve, 2003). I'll Be Seeing You: A Sentimental Journey (Verve, 2006) became a powerful and heartfelt tribute to her late mother. The connection to family, history, and tradition continued in Reverse Thread (E1 Music, 2010) and Southern Comfort (Sony Masterworks, 2014), drawing ties between her own African heritage and her family's history. Her most recent release, Ella: Accentuate the Positive (OKeh, 2017), celebrates the music and spirit of her inspiration, musical legend Ella Fitzgerald.
Regina also can be heard on such albums as Arturo O'Farrill's Fandango at the Wall: A Soundtrack for the United States, Mexico and Beyond; Stefon Harris's Sonic Creed; John Beasley's MONK'estra, volume 2; and James Carter's Caribbean Rhapsody, along with Eddie Palmieri's Listen Here!, which won a 2005 Grammy award for best Latin Jazz album, and the Grammy-nominated Freefall with Kenny Barron.
She has performed at numerous jazz festivals, including Monterey, Newport, Detroit, Atlanta, Bern, Montreux, Miami, New Orleans, Montreal, Mid-Atlantic (Washington, DC), PDX (Portland, Oregon), Rochester, and North Sea (Rotterdam, the Netherlands). Among the orchestras she has appeared with are the Detroit Symphony Orchestra, the Chicago Symphony, the Orquestra Sinfônica do Estado de São Paulo, the Knoxville Jazz Orchestra, the Atlanta Symphony, and the Chicago Sinfonietta. Particularly thrilling was her participation in the 2017 International Jazz Day All-Star Global Concert in Havana, Cuba.
A winner of multiple readers' and critics' poll awards from DownBeat, JazzTimes, and other publications, Regina tours with her own group and has appeared frequently as a guest soloist, including with such performers as Kenny Barron, the late bassist Ray Brown, Akua Dixon, Steve Turre, Stefon Harris, George Wein, Mary J. Blige, Joe Jackson, Billy Joel, Dolly Parton, Omara Portuondo, Cassandra Wilson, and Chieli Minucci and Special EFX.
Regina has twice been a Pulitzer Prize jurist. She is currently featured in J. Jill's "Inspired Women" ad campaign.
Regina lives in Maywood, New Jersey, with her husband, drummer Alvester Garnett.
Led by Artistic Director Regina Carter and joining her are past Master Class faculty including Allison Miller, Bruce Williams, Carla Cook, Ellen Rowe, Stefon Harris, and Marion Hayden!
Everything Carla Cook sings swings.
There's a reason for that: Cook has been influenced by the jazz vocal masters, but equally influenced by phenomenal instrumentalists, like Miles Davis, Wes Montgomery and The Crusaders. The Detroit native also finds inspiration in R&B, Motown, pop, gospel and country. In fact, she has put her unique phrasing on everything from Marvin Gaye's "Inner City Blues" to Bobbie Gentry's "Ode to Billie Joe" to Neil Young's  "Heart of Gold".
As a result, Cook has an improvisational style that's steeped in the swing tradition yet eclectic, and brimming with fresh interpretations. "Although I've been influenced by all the masters, I've been maturing into my own sound, "says Cook. "Today, I sound exactly like me."
That sound is a warm contralto with a remarkably wide range of colors; known for her interpretive gifts, Cook can sing in a hefty, bluesy timbre, reach crystal clear high notes, then scat with sure-footed richness; and she does it all with an acute sense of rhythm and timing. As a result, says jazz critic John Murph of The Washington Post. "She has sass that enlivens her impeccable diction, and tremendous soul that lets her swagger with gutbucket finesse, but it's all buttressed with sparkling optimism and innocence."
Her remarkable voice has earned Cook a Grammy nomination for her debut album, It's All About Love, and widespread critical acclaim for her two subsequent recordings, Dem Bones, ("an intoxicating album that is as adventurous as it is accessible") and Simply Natural  ("she remains delightfully free of artifice or affectation"), which solidified her reputation as a songwriter as well as a singer.
And in an extraordinary career, Cook has performed or recorded as a guest artist with such luminaries as the Count Basie Orchestra and Lionel Hampton's Big Band (she was the last of a long line of esteemed featured vocalists who performed with him before his death). She originated the lead vocal role for Wynton Marsalis' Jazz at Lincoln Center Orchestra's The Cotton Club Parade at City Center.  (The role was later performed with various vocalists for the Broadway production, renamed After Midnight).  And in 2011, she was the featured vocalist with the world –renowned Jazz Sinfonica, an 82-piece orchestra performing in Sao Paulo, Brazil.
A list of great artists Cook has worked with includes among others Jimmy Heath, Fred Wesley, Maceo Parker, Steve Wilson, Regina Carter, Eric Reed, Don Byron, Craig Harris, Sekou Sundiata, Patrice Rushen, Savion Glover, Ben Vereen, Cyrus Chestnut, Carl Allen, Rodney Jones, Igor Butman, Wycliff Gordon, Bruce Barth and Terell Stafford. Her band The Carla Cook Quintet, has opened for Ron Carter, Wayne Shorter and B.B. King; her band also performed at the invitation of Aretha Franklin for her annual Christmas Party.
In addition to her performing career, Cook is proud of her work as an educator. She has taught master classes at numerous universities and jazz camps in Australia and the U.S. for teens and adults. And since 2007, she has taught jazz voice and ensemble at Temple University in Philadelphia. In 2019, Cook also joined the jazz faculty of The Juilliard School as instructor of a Jazz Seminar.
For several years, the Carla Cook Quintet has offered master classes through The Rhythm Exchange, an interactive Jazz Education Program she created for secondary students in schools throughout the U.S.
In 2016, Cook was named Artist-In-Residence for the Robert S. Duncanson Society in Cincinnati, OH, where she provided educational programming and performances for students of all ages as well as the general public. In 2017 she joined the faculty of Pratt Institute in Brooklyn, NY for a special Residency teaching "Jazz: A Journey in Progress" to graduate students of Performance Studies.
"I've been able to strike a balance between performance and education in a variety of different collaborations," says Cook. "I think it's really important that we pass this on. It's American classical music, and so it excites me when I see young people interested and excited about it, and wanting to pursue it as I did when I was young."
Indeed, Cook was introduced to the music at a young age in her native Detroit. Growing up, she sang in the Methodist Church, but also enjoyed a range of musical styles – from European classical to rock to the blues. During her formative years, Cook studied privately voice, piano and string bass, the latter of when she played in the orchestra at Detroit's esteemed Cass Technical High School. Cook attended Boston's Northeastern University and earned a degree in Speech Communication. While in Boston, she formed the first of several jazz ensembles. She moved to New York in 1990, where she began performing regularly on the jazz scene; in the ensuing years, in a career spanning more than two decades, she has performed in concert halls and nightclubs and jazz festivals throughout the U.S. and Europe, Russia, Central Asia, Canada, Brazil, The United Arab Emirates, Africa, and Australia.
Always open to new experiences, Cook looks forward to the next big thing – from solo recording to collaboration to performing to more teaching opportunities. For her, it's all about telling stories, and that's what she loves about a life in jazz.
"I love that it allows me to improvise," says Cook. "I love the freedom of the music. I love that it's so broad, with all its different influences by some amazing people that started off creating and defining this music. I feel honored to be part of the story."
Stefon Harris' passionate artistry and astonishing virtuosity have propelled him to the forefront of the jazz scene. Heralded as "one of the most important artists in jazz" (Los Angeles Times), he is a recipient of the prestigious 2018 Doris Duke Artist Award, the Martin E. Segal Award from Lincoln Center, has earned four GRAMMYTM nominations, and has been named Best Mallet player eight times by the Jazz Journalist Association. He was also chosen Best Vibes in the 2018 and 2017 Downbeat Magazine Critic's Poll, the 2016 Jazz Times Expanded Critics Poll, the 2014 Jazz Times Critics Poll and the 2013 Downbeat Critics Poll. NPR's All Things Considered praised Mr. Harris' audacious CD Urbanus, which also earned a GRAMMY TM nomination for Best Contemporary Jazz Album, as one of "The Year's Best New Jazz" recordings. As a member of the SFJAZZ Collective, their 2014 CD, Wonder: The Songs of Stevie Wonder, won an NAACP Image Award for Outstanding Jazz Album.
Mr. Harris received his Bachelor of Music degree in classical music and Master of Music degree in jazz performance at Manhattan School of Music where he currently serves as Associate Dean and Director of Jazz Arts. He has taught at universities throughout the world in person and virtually via his Distance Learning Studio, has led curriculum development at the Brubeck Institute, and serves as Artistic Director of Jazz Education at New Jersey Performing Arts Center. Mr. Harris was Visiting Professor at Rutgers University and served on the jazz faculty of New York University for the past decade. "The Art of Listening," part of a series of documentaries focusing on Harris's community work in arts education in Kalamazoo, won 3 Gold Camera awards and 3 Michigan EMMY nominations. More recently he was the subject of a documentary, The Sound of New York viewable on QwestTV and produced and directed by Italian filmmaker Gloria Rebecchi.
As a thought leader, Mr. Harris leads transformative presentations on corporate leadership development and team empowerment to Fortune 100 companies using jazz as a metaphor. His inspiring 2012 TED talk, "There Are No Mistakes on the Bandstand," has gained nearly 700,000 views to date. Mr. Harris has served on the Board of Directors for Chamber Music America, WBGO-FM and on the Board of Advisors for Percussive Arts Society.
Mr. Harris' eleventh album as a leader, Sonic Creed featuring his band Blackout was released September 2018 on Motema Records which earned him the cover of Downbeat Magazine. He has also recorded as part of The Classical Jazz Quartet, with Kenny Barron, Ron Carter and Lewis Nash, and as a member of the SFJAZZ Collective. He has recorded and performed with many of music's greatest artists, including: Joe Henderson, Wynton Marsalis, Milt Jackson, Lionel Hampton, Herbie Hancock, Wayne Shorter, Bobby Hutcherson, Cassandra Wilson, Diana Krall, Dr. Billy Taylor, Max Roach, Cedar Walton, Mulgrew Miller, Benny Golson, Bobby Watson, Chaka Khan, Kurt Elling, Buster Williams, Dianne Reeves, Ry Cooder, Charlie Hunter, Common, and Pablo Zeigler. He co-founded The Melodic Progression Institute (MPI) in 2013 with partner Clif Swiggett to design innovative ways to help musicians learn and grow. The beta version of their first app, Harmony CloudTM, an ear-training tool is now available on iTunes.
Born in Detroit, MI, a crucible of jazz, Marion Hayden is one of the world's finest proponents of the acoustic bass. Mentored by master trumpeter Marcus Belgrave, Hayden began performing jazz at the age of 15. She has performed with such diverse luminaries as Sheila Jordan, Bobby McFerrin, Nancy Wilson, Geri Allen, Regina Carter, Steve Turre, George Benson, Gregory Porter and James Carter. She is co-founder of the Grammy nominated jazz ensemble Straight Ahead- the first all woman jazz ensemble signed to Atlantic Records. Hayden on faculty at University of Michigan School of Music and is a member of the Detroit Jazz Festival All Star Ambassadors touring ensemble. She is a Detroit Jazz Festival educator in residence at Bates and Ellington Middle Schools.
Widely recognized as a cultural advocate, Hayden received a 2019 Art X Detroit Grant and a 2018 Knight Arts Foundation Grant for a project encouraging young women in jazz. In 2016 Hayden received the prestigious Kresge Artist Fellowship, the Jazz Journalists Association Jazz Hero Award, Special Recognition from the Society of the Culturally Concerned and the Spirit of Detroit Award.
Current projects include:
Highland Park: City of Ogun. Featuring original music and personal narratives of the Highland Park community. Premier Oct. 2019
Ancestral Haiku: A video installation by artist M. Saffell Gardner, featuring original music and dance. Premier Aug. 2019
Hayden has toured extensively in the US, Europe, Japan, Australia, Africa and the Caribbean.
NYC-based drummer/composer/teacher Allison Miller engages her deep roots in improvisation as a vehicle to explore all music. Described by critics as a Modern Jazz Icon in the Making, Miller won Downbeat Magazine's 67th Annual Critics Poll "Rising Star Drummer" award and her composition, "Otis Was a Polar Bear", is included on NPR's list of The 200 Greatest Songs by 21st Century Women+. She is also the first recipient of the Mid Atlantic Arts Foundation's Commissioning Grant.
Miller, a three-time Jazz Ambassador for the U.S. State Department and Melba Liston Fellow (The New School), is Monterey Jazz Festival's 2019 Artist in Residence, alongside bassist/producer Derrick  Hodge. Simultaneously her band, Boom Tic Boom, is celebrating it's 10th anniversary with the release of their 5th album, Glitter Wolf. NPR's Kevin Whitehead says, "All the parts fit together like clockwork on Allison Miller's new album." The band has toured extensively throughout the US, Europe and Asia as well as being featured on such programs as NPR's Fresh Air with Terry Gross, Tiny Desk with Bob Boilen, WNYC's Soundcheck and New Sounds with John Schaefer, and Jazz Night in America with Christian McBride. While breaking from leading Boom Tic Boom, Miller focuses on collaborations, co-directing Parlour Game with Jenny Scheinman and Science Fair with Carmen Staaf. Science Fair's debut release is included in the New York Times and L.A. Times Best Jazz of 2018 list. Miller is also a proud member of the critically acclaimed Bluenote recording supergroup Artemis, and is the musical director for Camille A. Brown's Ink.
As a side-musician, Miller has been the rhythmic force behind such artists as Sara Bareilles, Ani DiFranco, Natalie Merchant, Brandi Carlile, Toshi Reagon, Dr. Lonnie Smith, Patricia Barber, Marty Ehrlich, Ben Allison, and Late Night with Seth Meyers.
Allison teaches at The New School for Jazz and Contemporary Music, Stanford Jazz Workshop, NJPAC and Geri Allen's All-Female Jazz Camp, Centrum, and is the Artistic Director of Jazz Camp West. She has been appointed Arts Envoy to Thailand for her work with Jazz Education Abroad and endorses Yamaha drums, Zildjian cymbals, Vic Firth sticks, Evans drumheads and Sunhouse percussion.
"…Glitter Wolf is undeniably accessible, gloriously melodic and funky as hell."
-New York City Jazz Record
"…Miller's craftiness as a percussionist is met by her ingenuity as a composer and
group conceptualist." -The New Yorker.
"Ms. Miller is a drummer, bandleader and composer with an aesthetic of limber
poise, drawn at once to brisk maneuvers and deep grooves." –The New York
Ellen Rowe, jazz pianist and composer, is currently Arthur F. Thurnau Professor of Jazz and Contemporary Improvisation at the University of Michigan. She is a graduate of the Eastman School of Music, where she studied with Rayburn Wright and Bill Dobbins. Prior to her appointment in Michigan, she served as Director of Jazz Studies at the University of Connecticut.
Winner of the Hartford, CT Advocate Readers' Poll for Best Acoustic Jazz, Ms. Rowe has performed at jazz clubs and on concert series throughout the U.S., as well as touring in Germany, Holland, Switzerland, Ireland, Poland, South Africa and Australia. CDs out under her own name include "Sylvan Way", "Wishing Well", "Denali Pass" and "Courage Music." Her latest project, "Momentum – Portraits of Women In Motion", featuring Ingrid Jensen, Tia Fuller, Marion Hayden and Allison Miller was released in January of 2019. Also active as a clinician, she has given workshops and master classes at the Melbourne Conservatory, Hochshule fur Musik in Cologne, Grieg Academy in Bergen and the Royal Academy of Music in London, in addition to many appearances as a guest artist at festivals and Universities around the country.
When not leading her own trio, quartet or quintet, she is in demand as a sideman, having performed with a wide variety of jazz artists including Kenny Wheeler, Tim Ries, Tom Harrell, John Clayton, Ingrid Jensen and Steve Turre. She was also a guest on two installments of Marian McPartland's "Piano Jazz" on National Public Radio.
Ms. Rowe's compositions and arrangements have been performed and recorded by jazz ensembles and orchestras around the world, including the Village Vanguard Orchestra, BBC Jazz Orchestra, U.S. Navy Commodores, Berlin and NDR Radio Jazz Orchestras, London Symphony, DIVA and the Perth Jazz Orchestra. Many of these works can be heard on recordings including "Leave It To DIVA", "The Perth Jazz Orchestra", "Bingo" (The Bird of Paradise Orchestra) and "I Believe In You" (DIVA). She has recently been a composer-in-residence at the Eastman School of Music and the University of Wisconsin at Madison. Recent jazz ensemble commissions include the Minnesota Band Directors Association, Belleville (MI) High School, Illinois Music Educators and Lawrence University's Fred Sturm Jazz Festival. Her big band compositions are currently published by Sierra Music Publications, Doug Beach Music and Kendor Music.
Having been selected to conduct the NAfME All-Eastern and All-Northwest Jazz Ensembles as well as All-State jazz ensembles throughout the country, she has also been an invited clinician at the National Association for Music Education Eastern Division Convention , International Society for Jazz Composition and Arranging Symposium and Jazz Education Network conferences. She is on the Board of the International Society of Jazz Arrangers and Composers and also serves as the Coordinator for the JEN Sisters In Jazz Collegiate Combo Competition. Her quintet has performed at the San Jose Jazz Festival, Jazz Education Network Conference, Michigan Jazz Festival, Detroit International Jazz Festival and in jazz clubs around the country.
Bruce is currently Adjunct Professor at Julliard School of Music, New York. Bruce Williams hails from Washington, D.C. and has performed, toured, and recorded with a long roster of jazz legends such as: Little Jimmy Scott, Frank Foster, The Lincoln Center Jazz Orchestra, Stanley Cowell, Louis Smith, Cecil Brooks III, The Count Basie Orchestra, The World Saxophone Quartet, Russell Gunn, Curtis Fuller, and Roy Hargrove to just name a few. Bruce is a versatile saxophonist who is currently the newest and youngest member, of the internationally recognized jazz group, "The World Saxophone Quartet" as well as a member of a newly founded group by legendary drummer Ben Riley, the "Thelonious Monk Legacy Septet". In addition to Bruce's playing, he is a jazz educator and mentor to many young jazz musicians. Bruce is currently a teaching artist at JazzHouse kids, an adjunct professor of saxophone at Bard College, and an ensemble coach at Julliard Conservatory Jazz department. In Addition, Bruce has served as a adjunct saxophone instructor at both the New School for Social Research (Mannes School of Music) in NYC and Princeton University in New Jersey. Bruce has given master classes at Ohio State, Iowa State, The Jazz Institute of New Jersey, The University of the District of Columbia, Princeton University, The New Jersey Performing Arts Center "Jazz For Teens" program, and the Paris Conservatory in France. Most recently, Bruce came out with his new C.D "Private Thoughts" under the Passin' Thru label owned by Oliver Lake.
Greetings from Newark!
The summer of 2020 will be my third year as artistic director of NJPAC's All-Female Jazz Residency—so far it has been an exciting journey.
Over the past six years, young women, age 14-26, representing 17 states and four countries, including Canada, Poland, Israel and Australia, have traveled to the Rutgers University-Newark campus to participate in our week-long residency designed to inspire and instruct those who aspire to a professional career in performing and/or teaching jazz.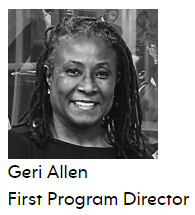 This year, we are excited to announce that the program has been renamed The Geri Allen All-Female Jazz Camp, in honor of its first Artistic Director, the incomparable Geri Allen. In a career that spanned more than 35 years, Geri Allen left behind a legacy of impeccable playing, composing, arranging and empowering young musicians, bringing the music forward with her innovative projects and her educational acumen. As we continue her bold legacy, we are excited to push forward her work to ensure more young women have the opportunity to be immersed in a secure, nurturing and fun environment, focusing in on their instrumental and vocal skills and building confidence.
During the week, our young women will learn about the history of women in jazz, create long lasting friendships, further hone their skills and jam in a community with other like-minded artists, all while interacting and being mentored by a distinguished faculty of jazz musicians from across the US.
The program's daily schedule includes music theory, technique class and ensemble rehearsals. At the end of the week, the students perform at Clement's Place, a jazz venue in Newark, honoring the legacy of Dr. Clement Price, Newark's city historian and a dedicated jazz fan.
Our young artists will experience masterclasses, panel discussions and listening sessions led by guest artists and faculty. Past guest clinicians include drummer Teri Lyne Carrington, pianist Kenny Barron, vocalist Carla Cook, saxophonist Tia Fuller, vibraphonist Stefon Harris and tap dancer/actress/vocalist Brinae Ali, who taught the students and faculty the 'Shim Sham.'
Past summers have included panel discussions with artist managers, marketing and brand specialists. We have toured the studio of Newark's premier jazz radio station, WBGO, and while there, had the opportunity to speak with some of the top female jazz radio hosts. We also visited The Institute of Jazz Studies, the world's foremost jazz archive and research facility located on the campus of Rutgers University-Newark.
Our camp will not only provide opportunities to see live jazz performances, with previous visits to the world famous Birdland Jazz Club in New York City, Trumpets Jazz Club in Montclair, NJ, and The Stone, John Zorn's Experimental Music Performance space in Greenwich Village. We will also have moments of civic engagement, as the summer of 2019 saw the students perform for elders of the Newark community at a community nursing home.
There are unique challenges that female musicians can face—balancing family, performing, traveling, teaching, working in a male-dominated field, etc. We engage in sister-to-sister talks and discuss a wide range of issues, offering strategies and solutions to arm the young women for success.
The Geri Allen All-Female Jazz Camp is an extraordinary, immersive and inclusive experience. We had a blast last summer and hope to have you join us in 2020!
All the best,
Regina Carter
Auditions are required and will be held on Mon, Jul 6.
Students less experienced with jazz improvisation, or any other aspect listed should not be anxious about these requirements as the camp caters to all levels. Beginning students should simply demonstrate any of the below criteria to the best of their ability. If you're unfamiliar with any of the material or new to improvising, let us know. Don't be intimidated or embarrassed; do the best that you can do. The Geri Allen Jazz Camp welcomes beginning and experienced students alike.  You are coming to camp to learn and we are ALL still learning.
Familiarize yourself with and Play Through as Many as Possible:
Chromatic Scale: Full range of Instrument (or what you are comfortable playing)
Major Scales/ Arpeggios (C, F, Bb, Eb, Ab, G, D)
Dominant 7th Scales/Arpeggios (C, F, Bb, Eb G, D, A)
Dorian Minor Scales/Arpeggios: (C, F, G, D, A, E)
Blues Scale: (C, F, Bb, Eb, D, G)
Ensemble Placement Repertoire – Vocalists
Vocalists: Choose keys with that are comfortable.
All of Me (Gerald Marks and Seymour Simons)
On the Sunny Side og the Street (Jimmy McHugh)
Benny Goodman & Peggy Lee https://youtu.be/lNekniIgjCk
Ella Fitzgerald  https://youtu.be/H0grl8rKUiw
One Note Samba
Sophisticated Lady
---
Ensemble Placement Repertoire- Instrumentalists
Drummers:
Demonstrate swing feel, ¾ swing (slow, medium, and up-tempo, with sticks and brushes), Bossa Nova, Samba, and Shuffle.
Drummers should (in place of a standard tune selection) prepare to demonstrate basic time feels: Swing in 4/4, and 3/4 (slow, medium, and up-tempo, with sticks and brushes), Bossa Nova, Samba, and Shuffle.
Bass Players:
Play the melody to the tune you have chosen. Demonstrate a walking bass line.
Doxy (Sonny Rollins)
Bye Bye Blackbird (Mort Dixon and Ray Henderson )
Oleo (Sonny Rollins)
On the Sunny Side og the Street (Jimmy McHugh)