During this time of confinement and social distancing as a result of COVID-19, Zonta Club of Essex is partnering with Women@NJPAC to host a three-part series, facilitated by Dr. Antoinette Ellis-Williams. These sessions will include virtual conversations, performances by inspirational spoken word artists, writing workshops, and visual arts demonstrations. We are particularly interested in supporting and encouraging girls and women in Essex County to use and trust their voices.
We know that during times of unemployment, trauma, stress incidents of domestic violence increase. The stay-at-home order to many is harsh and frightening. We will use this series to support and shed light on the good work of The Safe House and increase awareness of domestic violence.
Part 3- Saturday, May 23 @ 2–3PM
Visual Arts Workshop
Led by Danielle Scott
Join us for an interactive visual arts demonstration to help participants express their voice using mixed media. Artist/Educator Danielle Scott will conduct an interactive Dedication and Inspiration Assemblage Workshop. She will demonstrate her creative process on a work in progress. The workshop is to honor a family member, special friend, mentor or teacher.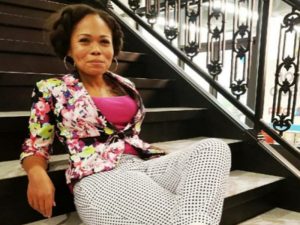 Danielle Scott grew up in Jersey City, New Jersey. She graduated from Newark's Arts High School in 1997, where she received the "Congressional Art's Award." Her very first oil painting was placed on display in the United States Capitol for a year. Ms. Scott holds a B.F.A. from the School of Visual Arts in New York, New York, having graduated with a triple major in Fine Arts, Art Therapy and Art Education (Honors Fine Arts). She has been an art instructor at the Academy of the Arts at Henry Snyder High School in Jersey City for 17 years.
Scott is a soft-spoken artist who is starting to explore loud, noise-making, thought-provoking work—examples of her life and passion. Her latest pieces convey the intense beauty and pain the artist sees in the world around her. From her paintings, raw photography and eye-catching sculptures, the work invites the viewer on a journey to explore a world that lies far from the hustle of everyday life, with influences as diverse as Gladys Barker Grauer, Ben Jones, Betty and Alison Saar and Renee Stout.
This new work depicts today's culture, tapping into the relationship between politics, social justice, equality, human and women's rights, police brutality, culture and being female, lesbian, Afro-Cuban/Polish Jew. Scott creates art using photo montage, found objects, old books and collage. She collects objects that speak to her and how they may be used to convey her message.
Here is a list of suggested items you can use if you have them at home:
Magazines
Handmade Paper
Newspaper
Old Books
Mail Flyers
Coupons
Drawings/Sketches
Cardboard
Fabric
Photographs
Stamps
Personal Items
Odds and Ends
Old Wrapping Paper
Glue/Glue Stick
Scissors
Paint
Colored-pencils
Markers
Crayons
Found Objects
For more information on Zonta Club of Essex click here.
Presented in Partnership with Zonta Club of Essex County