NJPAC's 2020 Spotlight Gala will still be held on October 3—virtually. Women@NJPAC invites you to the newly-created Spotlight Gala @ Home. We'll keep the festivities safe — and still support NJPAC and its vital arts education programs for New Jersey's kids.
Founders Award 2020 Honorees
Recognizing two generations of leadership in New Jersey for their commitment to NJPAC, Newark and the Arts
The Honorable
Thomas H. KeanGovernor of New Jersey, 1982 – 1990
The Honorable
Philip D. MurphyGovernor of New Jersey

Tammy Snyder MurphyFirst Lady of New Jersey
Join our Gala 2020 Co-Chairs — Aisha Glover, President and CEO, Newark Alliance; Kevin Conlin, Executive Chairman of Horizon BCBS; Scott Kobler, Partner at McCarter & English and Chairman, NJTV; and Mitch Livingston, President and CEO of NJM Insurance Group — and other cherished friends for an online evening celebrating NJPAC and the power of the arts to entertain, inspire and heal.
Help us keep the music playing! The annual Spotlight Gala is always an important fundraiser for us, but this year we need your participation and enthusiasm more than ever before. With your support, we can sustain NJPAC through this challenging time and make sure we can open our doors to the community once again.
This year's gala comes right to your home with a special one-hour salute compilation of performances from American Songbook at NJPAC, starring Tony Award® winner Brian Stokes Mitchell and a slate of luminaries including Billy Porter, Christine Ebersole, Jessie Mueller, Valerie Simpson, Jarrod Spector and Joshua Bell. Be part of the Spotlight Gala by tuning in to NJTV's American Songbook at NJPAC or njtvonline.org on Saturday, October 3 from 7­–8PM EST. Free!
Afterward, join us for our Gala After-Party hosted by DJ KISS and DJ M.O.S. at 8PM! Visit @njpac on Instagram for our gala after-party, with live music and dancing hosted by celebrity DJs, plus surprise guest appearances.
7PM: A Virtual Gala supporting Arts Education. Broadcast on NJTV and Live Streamed on njtvonline.org. Hosted by Brian Stokes Mitchell

8PM: Live Community After Party on Instagram with DJ Kiss and DJ M.O.S.
Let's continue this fall tradition of supporting NJPAC's Spotlight Gala, at a moment in our history when your generosity is needed as never before.
For more information about sponsorships and tickets, please contact women@njpac.org or call 973.297.5806 for more information.
Please find our Gala Sponsorship Brochure and Reply Form here, and view the Gala Digital Program Journal.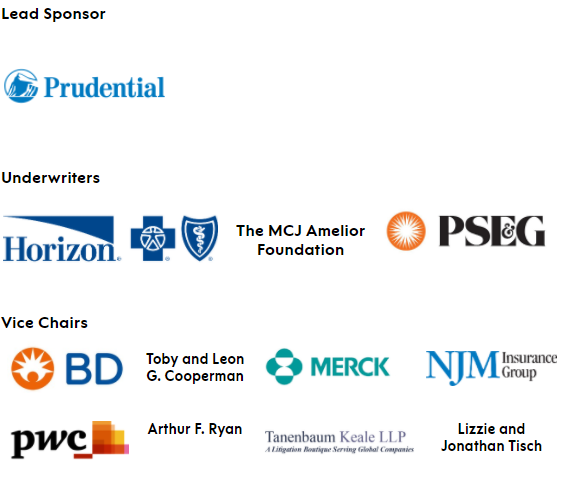 Dinner Committee
Platinum
Mindy A. Cohen and David J. Bershad
Gibbons P.C.
Nina Mitchell Wells and Theodore V. Wells, Jr.
Gold
ADP
American Express
Atlantic, Tomorrow's Office
Bank of America
Chubb Corporation
JPMorgan Chase
Paula and Bill Marino
RWJBarnabas Health

Official Airline of the Spotlight Gala 2020