Celebrating
25
Years
of
Women@NJPAC
The mission of the resourceful and ever-creative Women@NJPAC never ceases: to sustain New Jersey's premier anchor cultural institution and the best-of-class arts education it provides to children in perpetuity.
Over the 25 years since its incorporation, this amazing group of women has raised more than $50 million in support of the Arts Center.
The women of NJPAC are admired not for who they know, but for what they do. As a result of their bold fundraising campaigns, magic happens. The recorder is taught to thousands of adorable third- and fourth-graders of Newark Public Schools (who make some music of their own by blowing the roof off Prudential Hall each year at their concert finale). Books about famous dancers or musicians are given dramatic readings, then placed in small hands to take home. And by studying with masterly artists like Savion Glover, young performers receive a once-in-a-lifetime opportunity to discover their creative potential.
We thank all our members, and "the magnificent nine" founders whose shoulders we stand upon, for their spirit of inclusiveness, their tireless pursuit of worthy goals, and their passion for making cultural experiences accessible and essential to all.

We are change makers, rabble-rousers, artists, moms, bosses—women who give back in a hundred different ways. We've been making moves for 25 years—before NJPAC even opened its doors. Now, our powerhouse board and 2,000+ members have generated $50M+ to bolster the performing arts and improve our community. Join us.
We all have something to give, whether it's time, talent or treasure. This year we celebrated that through conversations with women who
give back

to their
communities in inspiring new ways.
"I love this sea of women's faces!" cried New Jersey's First Lady, Tammy Snyder Murphy, as she arrived at the podium on March 8 at A Gathering of Givers: New Jersey Women Making an Impact, a celebration of women's giving at NJPAC.
"You are part of a long line of women who have moved New Jersey forward," Murphy told the sold-out crowd of 300, gathered in the lobby of Prudential Hall to share inspiration and ideas about how harnessing the growing financial power of women has and will continue to change the face of philanthropy.
Spring Luncheon & Auction
This year's annual spring Luncheon and Auction featured fashion icon
André Leon Talley

and raised $300,000 in support of arts education in newark and across New Jersey.
On May 7, the largest "cast" ever assembled on Prudential Hall stage – over 560 strong – reveled in the high-spirited salute to sisterhood known as the Women@NJPAC's Annual Spring Luncheon & Auction.
As the guest speaker, Talley, the former Vogue fashion editor, protégé to Diana Vreeland, and subject of the 2017 documentary, The Gospel According to André, preached about the value of hard work, faith and humility. "Home for me is a very important place. It's the foundation of what I am," he said of his growing-up years in Durham, N.C.
The social event of the season. This year's Spotlight Gala paid tribute to music legend Ray Charles and raised more than
$2.2 million

in support of arts education programs at NJPAC.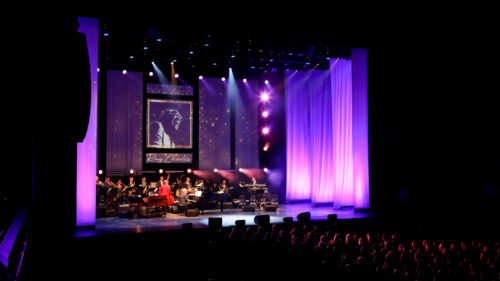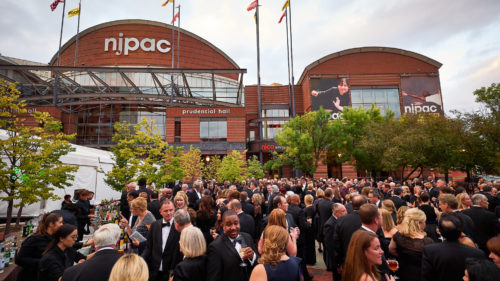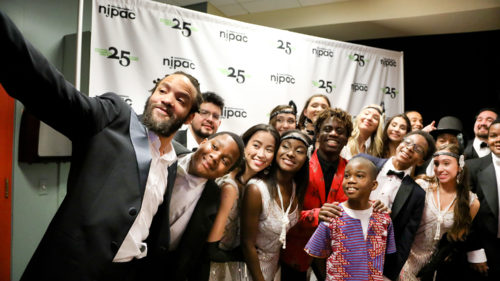 Before the performances, NJPAC's President and CEO John Schreiber and Women@NJPAC president Marcia Wilson Brown welcomed the revelers, and Gala co-chairs Mindy Cohen and Debbie Dyson, President of ADP National Account Services, spoke briefly about the arts education and community engagement efforts the evening's fundraising supported. A newly commissioned short film served as an introduction to the two men who were presented with NJPAC's Founders Award — Ralph Izzo, the Chairman, President and CEO of PSEG, and Ralph LaRossa, the President and COO of PSEG Power.
As a special treat, the cast of the Arts Center's student production of the musical The Tap Dance Kid opened the show, appearing with their director, mentor and NJPAC dance advisor, Savion Glover.
we hosted book talks and receptions, partnered on a free community film screening of What Happened, Miss Simone?, celebrated our founders, and connected at our annual members meeting.
Clement's Place was packed for the March 28 screening of the documentary about the life and legend of Nina Simone, an American singer, pianist, and civil rights activist labeled the "High Priestess of Soul." Writer, motivational speaker, and TV personality Mikki Taylor, also a Women@NJPAC Trustee, moderated a post-film discussion with jazz singer, composer and arranger Carmen Lundy, urban arts teaching artist Genesis Tramaine, and Salamishah Tillet, Ph.D., Professor of African American and African Studies at Rutgers School of Arts & Sciences-Newark.
In June, exactly 25 years after the founding of the Women@NJPAC, the founding members of the group were honored at a special Founders Luncheon in the Parsonnet Room. All the women who started the it–a crew that the Women@NJPAC's current president, Marcia Wilson Brown, calls "the magnificent nine"– were honored, but a special salute was made to Pat Ryan, a founder and past president, who passed away in 2018. In Pat's honor, a cherry tree was planted in Chambers Plaza–a nod to Ryan's work on the Branch Brook Park Alliance.
The grand finale was the Leading Ladies panel at the group's annual members meeting. This year, the event featured a group of speakers who serve as leaders in New Jersey's arts community, including Tanuja Dehne, newly appointed President and CEO of the Geraldine R. Dodge Foundation, and Taneshia Nash Laird, newly appointed President and CEO of Newark Symphony Hall.
"I can't tell you how many places I go where I'm the only person of color. I take my seat at that table and I represent, but I'm still so surprised," said Laird, during a discussion of how women, and often women of color, have come to take the reigns at many arts organizations in the state.