Diversity, equity and inclusion
Diversity, equity and inclusion are foundational tenets of NJPAC's mission, and our unwavering commitment to these principles informs all aspects of our work.
Diversity, equity and inclusion are foundational tenets of NJPAC's mission and our unwavering commitment to these principles informs all aspects of our work. Through performances, civic events, community engagement initiatives, arts education and hiring practices, we embrace diverse perspectives which enable us to be innovative programmers, educators and community partners. We foster an inclusive and equitable workplace where the talents and leadership skills of all are nurtured.
Our Arts Center's demonstration of its commitment to our DEI principles.
 Extending our work further in our home city of Newark and throughout the state of New Jersey by redefining what it means to be an anchor cultural institution.

Solidifying our position as a cultural home for local, national and international citizens from communities of color.

Building a stronger foundation of trust between NJPAC and the communities we serve.

Cultivating joy for our audiences, community, employees, volunteers, donors, Board members, and anyone else who comes into contact with our organization.

Investing in internal trainings, workshops, conferences and seminars that deepen our staff's knowledge and understanding of our DEI principles, in order to better serve our communities.

Listening intently to feedback from our audience members, employees, patrons, donors and community members on ways we can better serve them.

Partnering effectively with other local and national institutions to exchange best practices for integrating diversity, equity and inclusion into all aspects of our work, and to create a culture of collaboration.

Recruiting, hiring, and retaining qualified diverse individuals from communities of color, LGBTQ and women by creating a work environment where they feel valued and appreciated.

Fostering the future generation of young artists and professionals through our award-winning arts education programs.

Presenting work from artists and entertainers from diverse communities with an emphasis on those who most reflect our local communities.
The following Action Steps support NJPAC's mission of celebrating diversity, equity and inclusion. In addition to hosting enlightening civic engagement events, the Arts Center fosters an inclusive and equitable workplace where talents and leadership skills are nurtured. The Arts Center commits to the following for the benefit of its team members and the larger community: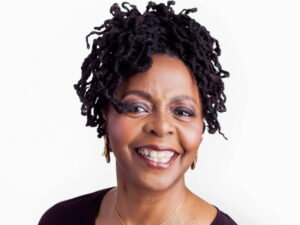 Donna Walker-Kuhne, NJPAC's Senior Advisor, Diversity, Equity and Inclusion (DEI), is a leader in engaging the arts community in DEIA initiatives. She chairs the Creating Change Steering Committee — comprised of arts administrators, artists and leaders of social justice organizations — which offers opportunities for learning and collaboration on creating an equitable, just and anti-discriminatory arts community in New Jersey. NJPAC created a DEI committee of employee and executive leadership which meets monthly to discuss and create intersectionality on DEI initiatives.
Wellness is a catalyst and driver of equity; it promotes living with healthy habits and advancing one's well-being. NJPAC supports the physical and mental well-being of our organization. The Zen Den, located in a salon on the first floor, is a multi-purpose space. During work hours staff may use the room to unwind and relax. The private room is available by sign-up and its many features include aromatherapy, art supplies, comfortable furniture, yoga equipment and a soothing playlist.
Every day of Pride Month, which takes place in June, NJPAC will fly the Pride flag. In addition, the LGBTQ+ ERG and the LGBTQ Advisory Council, in collaboration with the Arts Center's Community Engagement department, host a public Legacy Ball. The purpose of NJPAC's Legacy Ball is to provide a safe space for members of the LGBTQ+ community to come together with their allies and celebrate identity, community and acceptance.
NJPAC has several Employee Resource Groups (ERGs) representing self-identifying communities including African Americans, Hispanic/Latino/a/e (named Las Jardineras), LGBTQ+ and Women, in addition to ERGs supporting Wellness and Caregivers. All ERGs hold regular meetings and publish a quarterly newsletter in addition to planning programs and spearheading institutional initiatives. For example, the LGBTQ+ ERG pushed for the creation of gender neutral bathrooms for staff. And Las Jardineras was behind a Spanish translation of the NJPAC website.
Virtual dialogue healing circles are periodically held to support, educate and inform NJPAC staff on how to live antiracist lives.
The NJPAC organization participates in nationally recognized cultural heritage events such as the National Day of Racial Healing, National Day of Silence, Day of the Dead, Black History Month, Juneteenth, Cinco de Mayo, Women's History Month, PRIDE Month and more. NJPAC staff participation in DEI events is encouraged such as the Creating Change workshops, hosted by New Jersey Theatre Alliance and ArtPride New Jersey.
NJPAC's Colton Institute for Training and Research in the Arts plans and executes professional development workshops on social justice topics throughout the academic year.
A vital mission of Community Engagement is building long-term relationships with multicultural, civic, professional, educational and faith-based organizations to create deep access and creative use of NJPAC's resources in the Greater Newark community.
NJPAC's Community Engagement Department creates and develops Standing in Solidarity programming which is free to the public. Monthly events include the PSEG True Diversity Film Series. NJPAC's website also maintains a curated list of films, TV shows and podcasts on race, ethnicity, political participation, gender identity and more. This list is part of the programming for the National Day of Racial Healing which takes place every January.
The NJPAC employee Book Club meets quarterly to read and discuss books on the subject of cultural identity. The goal of the club is to strengthen institutional culture by promoting inclusion on multiple levels. Through literature staff can learn about bringing their whole selves to work and is another avenue for recognizing and celebrating the diversity of the organization's team and community.
NJPAC acknowledges that we are situated on land once inhabited by ancestors of the Ramapough and Nanticoke Leni Lenape. We honor them and the generations of souls who inhabited this land before us. We are grateful to Chief Dewaine Perry of the Rampapough-Lunappe Munsee tribe and Oleana Whispering, Eastern Tsalagi/Algonquian descendant, for their generosity, wisdom and labor to craft the following words.
We are gathered on the unceded land of the Lenape Peoples 
We were put upon this Turtle Island not to seek dominion but as care takers, and we gather here in a good way, to be with the Earth's children, in all of their forms, those of The land,  The Water and The Air. 
We the Lenape, original benefactors of land once ripened and cultivated with attentiveness to the Creator and her ascendancy, express everlasting gratitude to our Creator for the  traditional, ancestral jurisdictions of the Munsee, Esopus, Canarsie, Kapsee, Werpoes,  Siwanoy and Wequaesqeek jointly known today as the Ramapough and Nanticoke Leni Lenape. We are the Lenape-Hoking today, and will be for the remaining days of tomorrow — Keepers of the Pass.  
Let this moment of recognition be a monument of action. Let it be the beginning of hope for this our Turtle Island and for the Ramapough Lunaape; the Munsee people of whose land we  now trod. Here on this land, in this place of the Munsee, we acknowledge our debt to those  who have come before us, to those who have been denigrated and suffered for the sake of 
cultural and land appropriation.  
Let this, our Land Acknowledgement be the beginning of our return to unity. Let us be  guardians of the water, the air and the earth, the 4 legged, the fliers, the swimmers, the  crawlers, the mammal people and the green. Let us now stand lifting our humanity,  enrapturing with earth's consciousness as guardians of harmony and kindness. 
*This acknowledgement demonstrates our ongoing commitment as a community working to dismantle the  continued legacies of colonialism, oppression and systematic racism. We offer a pledge of Social Justice  awakening, and education in order to raise the level of awareness, and to ultimately strengthen the  communal fabric which includes outreach with our Indigenous neighbors.  
In this way, our collective voices can disrupt the patterns of social injustice through reverence of the Native  People who share their land and by revitalizing Indigenous history through Indigenous specific programming. 
Signed by Ramapo New Jersey Chief Dewaine Perry, Ramapough-Lunaape 
Co-Signed by Author & Museum Docent Oleana Whispering Dove, Tsalagi/Algonquian