Geri
Allen
Jazz
Camp
Workshops
Ages: 13 – 26
Price:
$50.00 per day
Purchase all four days for $150
Scholarship is available.
This summer we will be offering virtual Masterclasses led by Artistic Director Regina Carter and Geri Allen Jazz Camp faculty. This exciting opportunity is for you to refine your jazz technique, grow your confidence and build community with other aspiring performers who identify as female or non-binary. You'll get a sneak peak of Geri Allen Jazz Camp faculty and learn from masterclasses and industry panel discussions.
Jersey Arts People's Choice Award Winner for "Favorite Performing Arts Camp"
Support provided by Women@NJPAC
Masterclasses:
Jazz Child: Masterclass with Sheila Jordan – July 7, 2020
Join us for an in-depth discussion with legendary Jazz vocalist, songwriter and NEA Jazz Master as she offers wisdom and reflections on 60 years in Jazz.
Sister to Sister: Masterclass with Tia Fuller – July 8, 2020
 Join Grammy-nominated saxophonist, professor, composer and bandleader Tia Fuller as we unpack the history of contributions Women continue to have to the world of Jazz.  In this intimate talk, we will talk about the influences, experiences and unique challenges Women face as they pursue a career in jazz.
Prepping for Higher Ed:  Masterclass with Michele Wright, Assoc. Dir, Jazz Studies, MSM
Join Michele Wright, accomplished clarinetist and Associate Director, Jazz Studies, Manhattan School for Music, for a discussion on College and Grad school admissions in Music. Topics may include: the admissions process, auditions, applications and more.
The Business of the Music Business:  Masterclass with Sheila Anderson, WBGO
Join us for an in-depth conversation about the Music business with WBGO host Sheila Anderson, author of the book How to Grow As a Musician: What All Musicians Must Know to Succeed as she shares her passion and deep knowledge for all things jazz.
Greetings from Newark!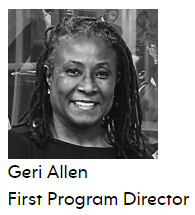 This will be my fourth year as artistic director of the Geri Allen Jazz Camp and it has been an exciting journey.
Over the past seven years, young women and those identifying as non-binary representing seventeen states and six countries, including Canada, United Kingdom, Spain, Poland, Israel, and Australia have participated in our week-long residency for young musicians between the ages of 14-26, designed to inspire and instruct those who aspire to a professional career in performing and/ or teaching jazz.
In a career that spanned more than 35 years, Geri Allen left behind a legacy of impeccable playing, composing, arranging, and empowering young musicians, bringing the music forward with her innovative projects and her educational acumen. As we continue Geri's bold legacy, we are excited to push forward her work to ensure more young women and those identifying as non-binary have the opportunity to be immersed in a secure, nurturing and fun environment focusing on their instrumental and vocal skills and building confidence.
This summer, in lieu of a week-long residency, the GAJC is offering four days of masterclasses led by several of our prominent faculty and guest artists, including:
Harpist/Composer/Arranger-Brandee Younger,
Pianist/Composer/Arranger/Educator-Ellen Rowe,
Vibraphonist/Composer/Arranger/ Developer -Harmony Cloud App-Stefon Harris,
Bassist/Composer/Arranger/Educator-Marion Hayden,
Choreographer/Songwriter/Educator/Cultural strategist- Brinae Ali,
Saxophonist/Composer/Arranger/Educator-Bruce Williams,
Vocalist/Composer/Arranger/Educator- Carla Cook,
Trumpeter/Vocalist/Composer/Arranger- Bria Skonberg,
Guitarist/Vocalist/Composer- Camila Meza, Trombonist/ Composer/Educator-
Melissa Gardiner
The Geri Allen Jazz Camp is an extraordinary, immersive, and inclusive experience. We are looking forward to having you join us for this summer's virtual masterclass series! July 11th, July 14th, August 18th and August 22nd.
Musically,
Regina Carter
PLEASE READ THIS IMPORTANT INFORMATION PRIOR TO REGISTERING FOR ANY COURSE
NJPAC strictly prohibits all students from sharing and/or receiving Personal Information, including, without limitation, phone number, social security number, address, email address, date of birth, social media account address, such as Facebook, Twitter, Instagram, Snap Chat, etc. (collectively the "Personal Information") in connection with any course. Although we recommend all parents/guardians monitor their child's internet use, to the extent that the student is a minor, parents or guardians must strictly monitor such student's internet use in connection with the course at all times and ensure that neither the parent or guardian nor the student share and/or receive any Personal Information. NJPAC is not responsible or liable for such sharing and/or receipt of Personal Information or any consequences thereof. For more information, please read:
NJPAC's Acceptable Use Policy for Virtual Courses
By registering for any course, you are acknowledging that you have read and agree to abide by these policies, and the terms, conditions, and restrictions contained therein.