Doug
Goodkin's
Jazz
Improvisation
for
All
Ages
Professional
Development
Workshops
for
Early
Childhood
Educators
Presenters:
Doug Goodkin
Date:
Monday, April 6 @ 8:30AM – 3:30PM
Price:
Pay what you can ($75 per person is suggested) • credit hours: 6
Location:
24 Rector Street
Newark, NJ 07102
Get Directions
For some, musical improvisation feels as natural as speech, but for many, it is a difficult challenge. In either case, the music teacher can help de-mystify improvisation, make it more accessible and help shape it to be more expressive and coherent. How can a three-years old improvise without instrumental technique, theory or familiarity with a style? How can the beginning band student make sense out of "this scale, this chord, go!!"? Drawing from the Orff approach to music education, this workshop will offer models of the many media available in improvisation—speech, body percussion, gesture, movement, drama, song, Orff instruments, band instruments— as well as various games, structures, exercises that help make improvisation something accessible to all. Body, voice and Orff instruments will be at the center of the day's activities, but all are encouraged to bring their own instrument as well.
Course includes a Professional Development Certificate, printed materials, catered breakfast and lunch.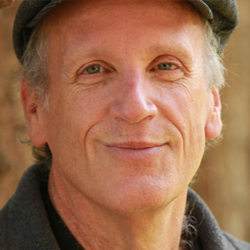 Doug Goodkin is most well-known for his work as a music educator and particularly as a proponent of Orff Schulwerk, a dynamic approach to music education developed by composer Carl Orff and his colleague, Gunild Keetman. This work has led him deeper into education as a means to shape the future by meeting the promise of humanity in each of its developmental phases. A career of working with preschool, elementary, middle school, college students and adults has provided insight into the special needs of each age level and the universal needs of all ages. Traveling and teaching throughout the world has helped sift out where cultures both differ and converge and inspired him to celebrate both. His three decades of work in one school has given him the opportunity to help shape a community that inspires the higher impulses of children and adults alike. Experienced teacher, perpetual student, avid reader, prolific writer, performing musician, social activist, jazz aficionado and piano player, Zen Buddhist practitioner, and world traveler, Doug's diverse work and interests are tied together by a vision of celebrating individual flowering within the circle of community.