The racial wealth gap in our country is staggering, with typical white families holding ten times the net wealth of typical Black families. How do we overcome the legacy of economic racism that began with slavery and continues to this day?
In honor of Juneteenth—the holiday that celebrates the emancipation of those enslaved in the United States—NJPAC invites you to our next PSEG True Diversity Film Series panel. We'll discuss ways to enhance the economic vitality of Black communities on multiple fronts, including job creation, financial literacy, wealth building, financial inclusion and economic integration.
How to participate:
Join us for a virtual panel discussion at 7PM on Monday, June 13, 2022.
William S. Parrish Jr., President and CEO of NobleStrategy and adjunct professor at NYU's Schack Institute of Real Estate and Baruch College's Zicklin School of Business will moderate our panel.
Our panelists include:
Dr. Laura Sullivan, Director of Economic Justice at the New Jersey Institute for Social Justice.
Sabrina Lamb, Founder and Chief Executive Officer of the WorldofMoney.org, dedicated to youth financial education.
Monica Soyemi, an alumni and ambassador of the World of Money program.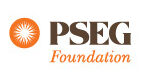 Additional support provided by Women@NJPAC and Verizon