Plus a healthy eating workshop with RWJBarnabas Health nutritionists!
Experience the stomps, claps, and complex rhythms of the rich African-American cultural tradition known as step in this Wellness Wednesday workshop led by Maxine Lyle!
Throughout the class, you'll learn foundational step choreography and examine step's early roots in South African gumboot dance. Maxine began stepping at the age of seven in her hometown of Newark, New Jersey and has been performing ever since. She is now an experienced choreographer, teaching artist, and founder of Soul Steps LLC, one of the world's only professional dance companies dedicated to teaching and performing step.
Her commitment to arts education continues through this virtual class at NJPAC. No experience required and all ages are welcome! Join Maxine this Wellness Wednesday for Intro to Step at 7:30PM on December 9.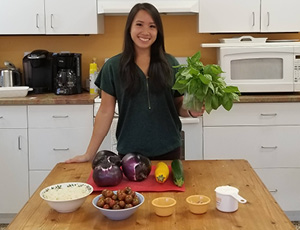 Let's be healthy together!
RWJBarnabas Health nutritionists will join our December Wellness Wednesday gatherings to offer tips on healthy eating around the holidays, keeping active in the winter months and more! They'll offer easy strategies and useful information to make our Wellness Wednesdays more impactful than ever before.