Join us this Wellness Wednesday for a Chinese classical movement class led by Nai-Ni Chen!
One of the most celebrated Asian American artists in the United States, Nai-Ni Chen has been developing her unique brand of cross-cultural choreography for over 30 years. Throughout her impressive career, Nai-Ni Chen has received several choreographer fellowships from the National Endowment for the Arts and the NJ State Council on the Arts. You may recognize her name from the Nai-Ni Chen Dance Company, a group that incorporates the beauty of Chinese classical arts into the dynamism of American dance in their performances at NJPAC and across the globe.
Nai-Ni Chen's virtual class will draw on elements from traditional Chinese theater and martial arts with an emphasis on energy, healing and storytelling. She hopes this class will lift your spirits and help you to reconnect with yourself and nature. Tune in for this special workshop on May 5 at 7:30PM.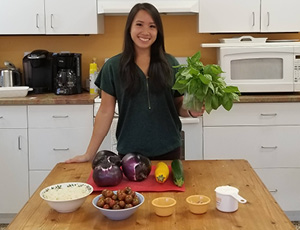 Let's be healthy together!
RWJBarnabas Health nutritionists will join this Wellness Wednesday gathering to offer tips on healthy eating, keeping active in the winter months, and more! They'll offer easy strategies and useful information to make our Wellness Wednesdays more impactful than ever before.