This Wellness Wednesday, don't miss out on a dynamic Indian classical dance class led by Vidhushi Akhilandeshwari, also known as Akhila V!
Akhila is a renowned Bharatanatyam artist, known for injecting creativity and enthusiasm into one of India's oldest classical dance traditions. In 2014, she was the recipient of the prestigious Purandara Anugraha Award and has been recognized by the U.S. government for her contribution to the UNESCO project "Involve and Evolve." She was also a recipient of the NJ Arts Council Mater Grant in 2016-2017 and 2018-2019.
In this special virtual class, she will highlight the ancient art form of Bharatanatyam through hand gestures, body movements, and facial expressions. Get ready to move with Akhila on April 7 at 7:30PM!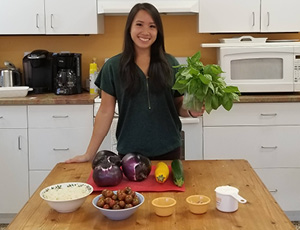 Let's be healthy together!
RWJBarnabas Health nutritionists will join this Wellness Wednesday gathering to offer tips on healthy eating, keeping active in the winter months, and more! They'll offer easy strategies and useful information to make our Wellness Wednesdays more impactful than ever before.