Don't miss out on an exciting "Fritzation Fusion" class led by Fritzlyn Hector! Back by popular demand, the class will feature a unique mix of African, jazz and urban social dances.
Fritzlyn is an educator, choreographer, director, and performing artist with over 25 years of experience in the industry. She is a 20-year veteran cast member and trainer of the Broadway show STOMP and artistic director of her own company, Fritzation Experience. She has taught at Hofstra University, been a guest artist at Princeton University, and is currently a professor and director of the dance program at Long Island University Post. Additionally, she is a principal dancer and rehearsal director of Nature Dance Theater Company.
Now, in this live virtual class for NJPAC, she is delighted to share her years of expertise as a professional dancer, percussionist, and teaching artist with you! Join Fritzlyn for this fun Wellness Wednesday workshop on June 9 at 7:30 PM.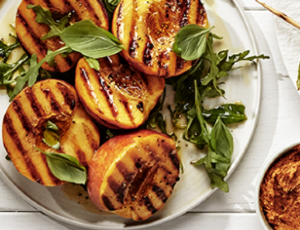 Summer On with Whole Foods Market!
Try these "9 Easy Plant-Based Swaps for Your Backyard BBQ". Go full on veggie this summer with plant-based recipes, tips and swaps for all your summer grilling favorites.