This Wellness Wednesday, learn to feel the music in this lyrical dance class with Isio-Maya! The class will feature elements of ballet and jazz movement set to music that is designed to create a powerful emotional response.
Isio-Maya studied dance at Harlem School of the Arts and Alvin Ailey American Dance Theater before enrolling in the New York University Tisch School of the Arts in 2019. In 2018, Isio-Maya was selected to be a National Ambassador for the non-profit organization Brown Girls Do Ballet. As a national ambassador, she serves as a role model and mentor to younger brown ballerinas so they can learn to be comfortable in their own skin.
Now, for NJPAC, she will teach an expressive lyrical class that will help you brush up on your dance technique and get in touch with your feelings. Join Isio-Maya for this Wellness Wednesday workshop on January 6 at 7:30PM.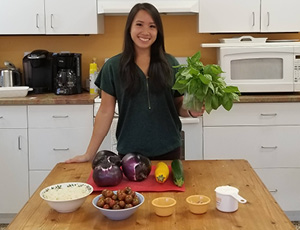 Let's be healthy together!
RWJBarnabas Health nutritionists will join our January Wellness Wednesday gatherings to offer tips on healthy eating, keeping active in the winter months and more! They'll offer easy strategies and useful information to make our Wellness Wednesdays more impactful than ever before.